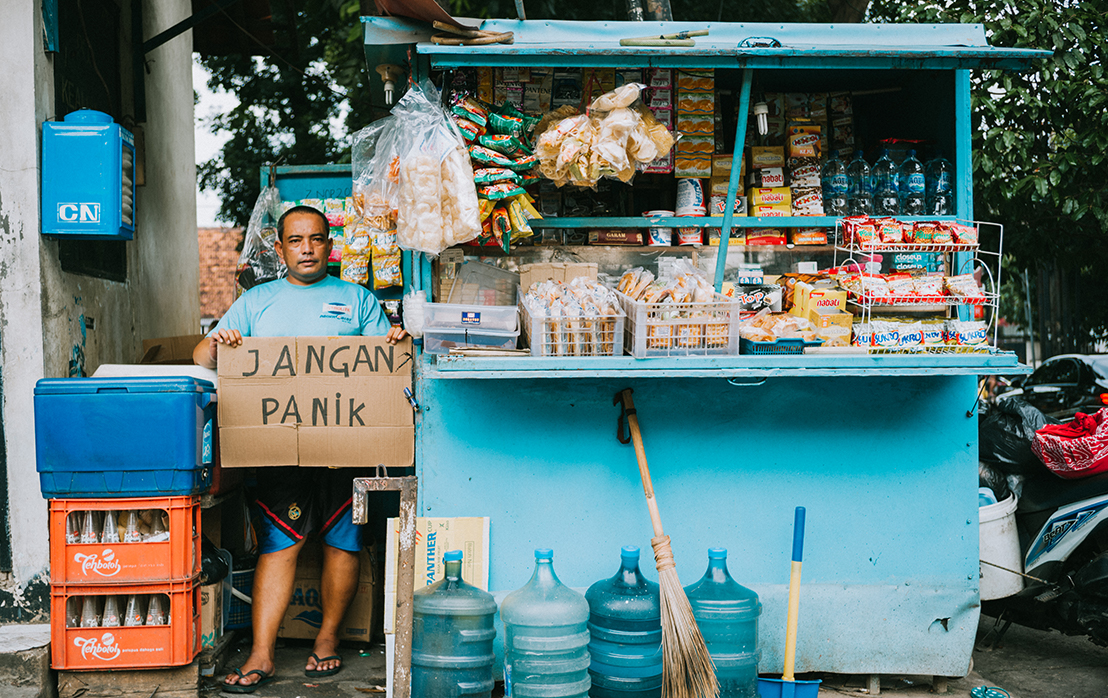 About Anak Bangsa Bisa Foundation
Yayasan Anak Bangsa Bisa (YABB) is a non-profit organization founded by Gojek to advance equal opportunities and help build more sustainable livelihoods for those who rely on daily income.

As a part of Gojek, YABB also values Speed, Innovation and Social Impact. We aim to uphold these values by serving individuals and their families whose livelihoods are dependent on a daily income.

Our activities are audited by PwC and initiated both internally, in the Gojek ecosystem, and in partnership with the private and public sector.
Our Programs
The COVID-19 pandemic has left no one unaffected, putting lives in uncertainty, creating an economic downturn like no other. Among us, those who depend on daily income are hit the hardest. Yayasan Anak Bangsa Bisa has been formed to help build sustainable livelihoods, and we are starting with COVID-19 relief efforts.

Our support has reached 20 cities across Indonesia.
Beneficiaries receive staple goods packages consisting of basic needs such as rice, cooking oil, and instant foods. As of May 24th 2020, we have distributed 455,000 staple goods vouchers for our driver-partners via Alfamart.
This program provides distributed free meal vouchers to beneficiaries who can redeem them at specially selected micro, small, and medium sized enterprises, which also helps them earn additional income. As of May 24th 2020, we have distributed 640,000 family meals vouchers.
Free Meals for Healthcare Workers
In this program free meals are provided for healthcare workers. As of May 24th 2020, we have distributed 176,000 free meal packages for healthcare workers at 15 hospitals across the Jabodetabek area.
Sumbang Suara Movement
Corporate Donors
We partner with the amazing institutions who believe in the importance of our vision to help build more sustainable livelihoods for those who rely on daily income.
Join people who share the vision
Monica Oudang
Chairwoman of Yayasan Anak Bangsa Bisa
As a new foundation, formed at one of the most challenging times, we are in a position where we are able to reach people who are impacted the most. Our strong relationship with multiple parties has enabled us to hand in hand come up with programs that will change many lives for the better.
Garibaldi Thohir
Governing Board Member of Anak Bangsa Bisa Foundation
I gladly welcome the establishment of Anak Bangsa Bisa Foundation and am proud to be a part of it. This foundation is a true example of the spirit of Gotong Royong (mutual cooperation) that Indonesian people have. Through unity, we are solid to help each other in these challenging times.
Solihin
Corporate Affairs Director of Alfamart
Staple Goods Program with Alfamart is our effort in tackling COVID-19 pandemic. With the spirit of gotong-royong (mutual cooperation), we can overcome this challenge together. We hope collaborative initiative will inspire other parties to take action in anticipating COVID-19 impact.